I have had several interesting gastronomical experiences, but the latest and by far the most extraordinary, was a visit to the Atelier in Ottawa.
They offer a TWELVE course tasting menu with wine pairing.
Here is the first course called "Savage Garden". It looks more like a painting than a plate…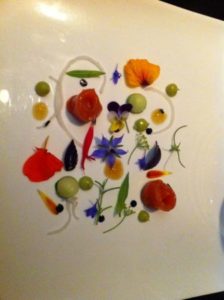 Less spectacular but still interesting was a Slow Food event about fish and sea food, where they served. among other things,  shrimp confit  sliders, stuffed mussels italian style, oysters tempura…
As far as my own experiments go, I have to say my train cake was the most fun to make…each car carrying different merchandise….