Ever since visiting Barcelona, I have developped a fondness for tapas.
These are not new to me as I have had them as mezzes in Turkey, and amuse-bouches here and in the US
but I just love this way of eating as it allows you to taste so many different foods without over eating.
Granted it can involve more work for the cook, nonetheless I recently endeavoured to make an entire party of them.
Even though in Spain they are mostly bread based, I tried to stay away from that as it is too filling.
Here are some of my offerings:
Tartare salmon verrines (this refers to the glass as a container, from the french word verre meaning glass), made with salmon tartare over a home made mayo and some crumbled tempura for crispness.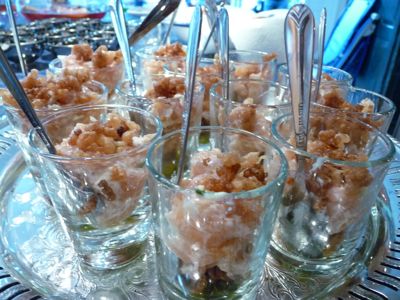 Then there was seared tuna and guacamole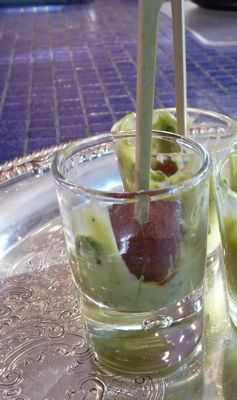 Shrimp wrapped in bacon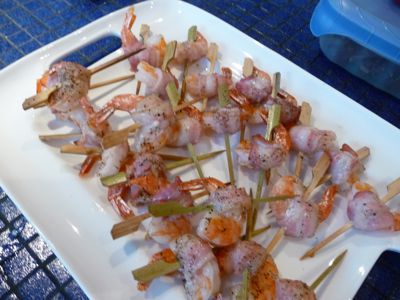 There was duck with veggies and peanuts in char su (a sweet and spicy sauce), there was smoked salmon over pumpernickel cream cheese, red onion and cucumber, there were tiny meat balls, there were the traditionnal devilled eggs…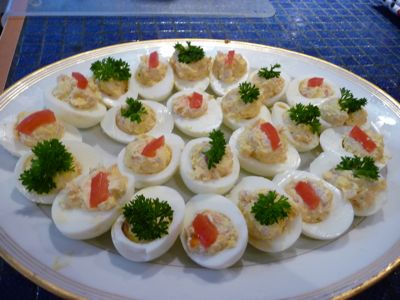 And the very colourful melon smoothie with prosciuto chips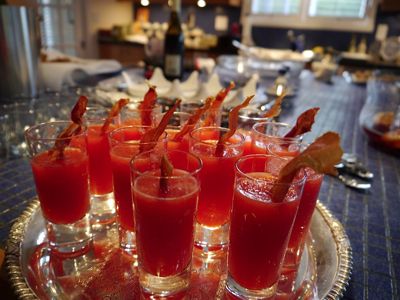 There was even some dessert: the expected cupcakes, but I also tried my hand at a deconstructed  version of  an almond dacquoise with passion fruit and pomegranate seeds topped with almong brittle.